The Government of Namibia on Sunday official invited the Cuban Five to its Heroes' Day commemorations that will take place at the Heroes' Acre outside the capital on 26 August this year.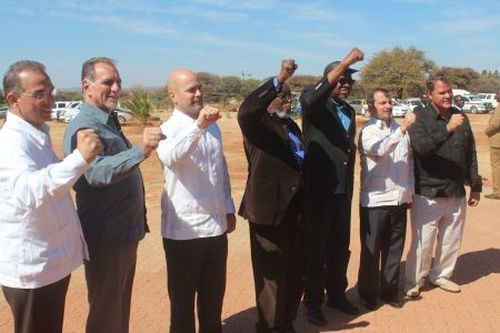 President Hage Geingob made the announcement at Farm Etunda where the Cuban Five had visited Namibia's first president, Dr Sam Nujoma on Sunday afternoon.
Farm Etunda is Nujoma's private property situated approximately 30 kilometres south of Otavi in the Otjozondjupa Region.
Reading the invitation letter, Geingob said it was with pride and satisfaction for him to write this letter of invitation to the Cuban Five so that they return to Namibia on 26 August 2015 and commemorate with the whole nation.
"The relationship between Cuba and Namibia is an extraordinary one, etched in blood and forged in the war trenches during the struggle against the imperialism and colonial oppression", Geingob said.
He said that the relationship between the two countries was founded on an unwavering bond and brotherhood that will continue to stand the test of time.
"Therefore, it is the desire of the Namibian Government and its nation to honour you in a manner that is befitting, not only in regard of your sacrifices, but also the sacrifices of all Cuban people that traversed the globe in fighting for the liberation of people from colonial oppression", added Geingob.
The 26 August each year is Namibia's Heroes Day, as it marks the first day of gunshots that were fired to begin with the national organised armed struggle for liberation of the country.
Namibians on this day always gather to commemorate the lives of persons who sacrificed their lives to free Namibia from the yoke of colonialism.
On behalf of the Cuban Five, Ramón Labañino said they unanimously accepted the invitation for them to attend Heroes' Day commemorations next month.
The Cuban Ambassador to Namibia, His Excellency Giraldo Mazola was also at the visit of the Cuban Five to Farm Etunda on Sunday.
The Cuban Five were arrested in Miami in the United States of America in 1998 on charges of conspiracy to commit espionage.
They, accompanied by their families, arrived in Namibia on Friday night from South Africa where they had been for the past two weeks.
The five men are Gerardo Hernández, Ramón Labañino, Fernando González, Antonio Guerrero and René González.
They emerged victorious when the USA released the last three of them from prison in December 2014.
Some of the men had actively participated in the Battle of Cuito Cuanavale in October 1987 in Angola.
According to Nujoma, that is what makes Namibians remain indebted to them (Cuban Five) and to the revolutionary people of the Republic of Cuba.
Nujoma said the Cuban people did not only share the same battle trenches with the Namibians, but also they sacrificed their lives for the just course to free Namibia from colonialism.
Taken from http://www.lelamobile.com