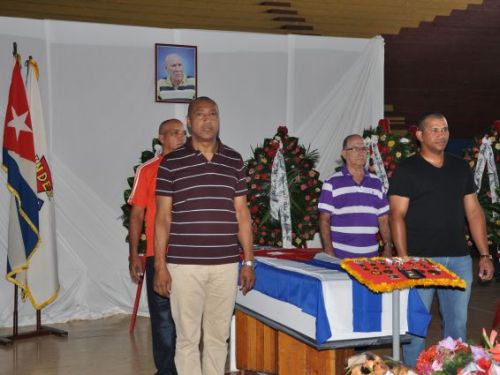 Sport workers and residents of Sancti Spiritus paid posthumous tribute this Monday to Heriberto Moreno Donate. 
Moreno was director of sports in this central Cuban province for almost forty years.
The funeral service took place at the local Yayabo sport center, where wreaths were received from Miguel Díaz-Canel, member of the Political Buro, and vice-president of the Councils of State and Ministers; from José Ramón Fernandez, president of the Cuban Olympic Committee; and from the leadership of sports, the Provincial Committee of the Party, and the Provincial Assembly of the People's Power.
A representation of the sport movement in the territory honored the memory of who is considered the main responsible of local successes, and leader promoter of the sport infrastructure made up of José Antonio Huelga Baseball Stadium, Sala Yara Sport Center, the Archery Academy, and the skating rink, among other important facilities.