One hundred and twenty three years after the foundation of Patria newspaper by Jose Marti, the Cuban Press Day was commemorated in Sancti Spiritus, central Cuba, with a tribute ceremony to local reporters.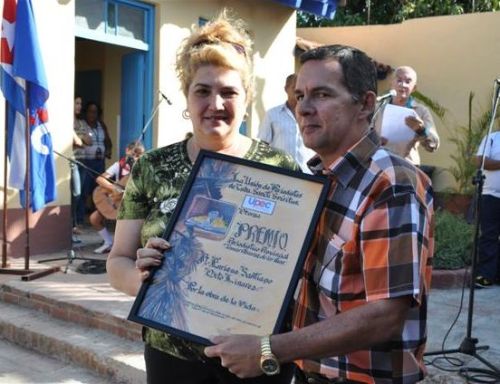 Special recognitions were granted to several journalists for their outstanding way of addressing the Cuban Five cause. They were Arelys García, from Radio Sancti Spíritus; Alipio Martínez, from Radio Trinidad; and Pastor Guzmán and Enrique Ojito, both of them from Escambray newspaper.
Like in previous occasions, the Felix Elmuza Award, instituted by the Council of States and granted under the proposal of the Union of Cuban Journalists (UPEC), was presented to over ten professionals who have been working in the journalism branch for 15 years or more.
The national presidency of UPEC also sent acknowledgements to a group of reporters for their dedication in the training of the new generations of journalists.
During the ceremony, the Tomás Álvarez de los Ríos Life Achievement, and the Honorio Muñoz Work of the Year Provincial Awards were granted to Enrique Ojito Linares, and Elsa Ramos Ramírez, respectively. The latter was also recipient of the Juan Gualberto Gómez National Prize.
The memory of UPEC local symbol, José Camellón López, was once again honored with the results of the journalism contest named after him, which this year had a special department dedicated to the 500th anniversaries of the villages of Trinidad and Sancti Spiritus.
The Provincial Assembly of the Peoples's Power praised the work of the Association of Social Communicators in Sancti Spiritus, while the Provincial Committee of the Party highlighted the staff of Centrovision Yayabo (local television). Both institutions came together to distinguish the work of the Provincial Delegation of UPEC.