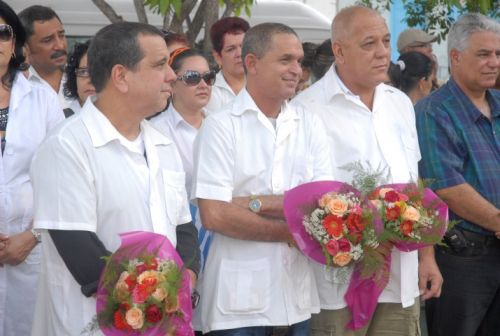 Residents of Sancti Spiritus, central Cuba, warmly welcomed the three health workers who, for nearly six months, worked in African countries fighting Ebola.
Dr. Miguel Sacerio Caballero, and nurses Francisco Prada Morales, and Julio César Gómez Ramírez returned to their home province with the satisfaction of having helped to reduce mortality due to a disease that turned into epidemics in several nations, mainly Sierra Leone, Liberia, and Guinea Conakry.
When addressing the participants in the welcoming ceremony, Juan Luis Marcelo Pentón, provincial health director of the territory, praised the work carried out by the three men, which is clear evidence of the solidarity of the Cuban people.
Dr. Marcelo Pentón also read words of recognition on behalf of the Provincial Committee of the Party, the Assembly of the People's Power, local health workers, and the people in general.
Julio César Gómez Ramírez expressed his gratitude and his colleagues' towards local authorities, and said that the tribute they were being paid to was thanks to Commander in Chief Fidel Castro, the main promoter of the independence we now enjoy.