Army General Raul Castro, president of the councils of State and Ministers, received Federica Mogherini, high representative of the European Union for Foreign Affairs and Security Policy, and vice-president of the European Commission.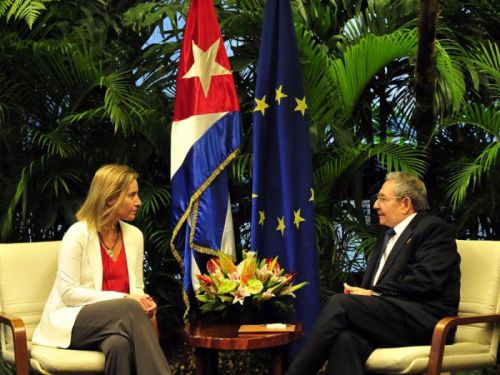 In a cordial atmosphere, on Tuesday, they spoke about the bonds existing between the European Union and Cuba. They coincided in the interest of developing relations of mutual respect, based on the purposes and principles of the U.N. Charter. Likewise, they spoke about issues of common interest on the international agenda.
Accompanying the distinguished visitor was Stefano Manservisi, chief of Cabinet, and Herman Portocarero, ambassador of the European Union to Cuba. Also attending the meeting, representing Cuba, were Bruno Rodriguez and Rogelio Sierra, minister and deputy minister of Foreign Affairs, respectively.
The High Representative of the European Union also held official talks with the Cuban Foreign Minister. She was received by the President of the National Assembly of the People's Power, Esteban Lazo; by the Vice-president of the Council of Ministers and Minister of Planning and the Economy, Marino Murillo; and by the Minister of Foreign Trade and Investment, Rodrigo Malmierca.
Raul Meets with Russian Freign Minister
Army General Raul Castro, President of the councils of State and Ministers, met on Tuesday with Serguei V. Lavrov, Minister of Foreign Affairs of the Russian Federation, who is in Cuba on a work visit.
During the fraternal meeting, they highlighted the excellent state of bilateral relations and ratified their willingness to work together in the effective implementation of the bilateral economic agenda and to deepen exchanges in spheres of common interest.
Raul expressed his appreciation for the support of Russia in the fair demand of putting an end to the economic, commercial and financial blockade against Cuba. In addition, he reiterated Cuba's opposition to the unilateral sanctions imposed by the United States and its NATO allies against Russia.
Accompanying the distinguished visitor were Mikhail L. Kamynin, ambassador of the Russian Federation to Havana, and Alexander V. Schetinin, director for Latin America of the Foreign Ministry. Also present for Cuba at the meeting were Bruno Rodriguez and Rogelio Sierra, minister and vice-minister of Foreign Relations, respectively.
Previously, Lavrov met with Ricardo Cabrisas, vice-president of the Councils of Ministers, and with FM Rodriguez.