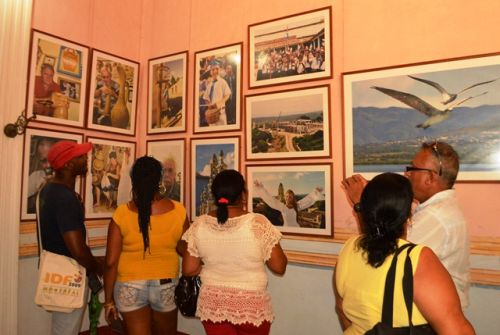 After having been displayed in galleries of Sancti Spiritus and Havana, Raul Abreu's Cerca del mar y del monte (Near the sea and the woods) photographic exhibition has finally settled in the Museum of Colonial Architecture of Trinidad.
The exhibition, comprised of 50 photos reproducing popular characters and everyday life events of the ancient Cuban village, is now placed side by side with late trova musician Pedrito González, Isabel Béquer (The profound one), Chichi (the patriarch of the Santender family), and with Carlos Mata, also known as The painter of the night. 
"When I presented my exhibit Juego de luces (Light games) at the Trade School, I promised to make an exhibition on occasion of the 500th anniversary of Trinidad —Abreu pointed out—. I began to study local history deeper, because every photographer must get to know the past of the location he/she will be faced with. This, and the fact of having been very close to local residents for several months, allowed me to know a different city.  Later on I was told about the 40th anniversary of the song Cerca del mar y del monte —sort of hymn to the territory—, and I decided to honor it. Afterwards I decided that this exhibition couldn't be anywhere else. That is why I made the donation to the people of Trinidad, along with a series of audiovisuals about the half-millennium festivities, as a gift for present and future generations".
According to foreign specialists, Abreu's picture exhibitions is valued at 50 000 dollars. But, "out of here, these photos don't make any sense. I also want to stay near the sea and the woods".
The renowned Cuban photographer announced his future work in combination with other manifestations. "I'm planning to open a gallery on the Afro-Cuban topic at Casa-Templo Yemayá. I also want to work with architect Lázaro Morgado, in Topes de Collantes, and with painter Carlos Mata, to prepare an exhibition of night sceneries, among other projects".
Photos: Carlos Luis Sotolongo Puig.