Pope Francis called society to give priority to welfare over material possessions this Thursday, during a mass that drew millions of faithful Bolivians.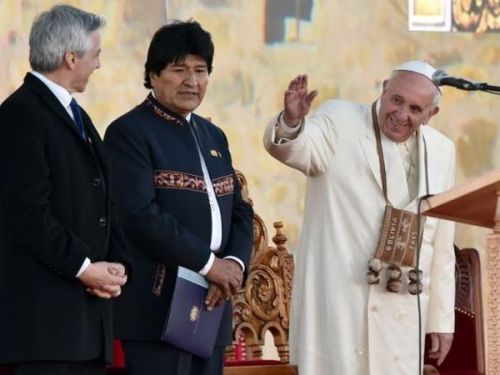 "The greatest wealth of a society is measured by the lives of its people; it is gauged by its elderly, who pass on their knowledge and the memory of their people to the young. Jesus never denies anyone's dignity, no matter how little they possess or seem capable of contributing," he said during mass in Santa Cruz.
Addressing crowds of Catholics, the Pope called for a "genuine solidarity capable of entering into the mindset of taking, blessing and giving."
The mass was the centerpiece of the Bolivian leg of the Pope's South American tour.
Since his arrival Bolivia late Wednesday, Pope Francis has praised President Evo Morales's efforts in redistributing wealth and promoting social inclusion. He also said that Bolivia was "taking important steps to include broad sectors in the economic, social and political life of the country."
Morales received the pontiff at an airport near the capital of La Paz, saying he had arrived to a "land of peace that seeks justice." Among the many gifts given to Pope Francis, Morales gave the pontiff a wooden hammer and sickle with a figure of a crucified Christ resting on the hammer.
(With information from http://www.telesurtv.net/english)