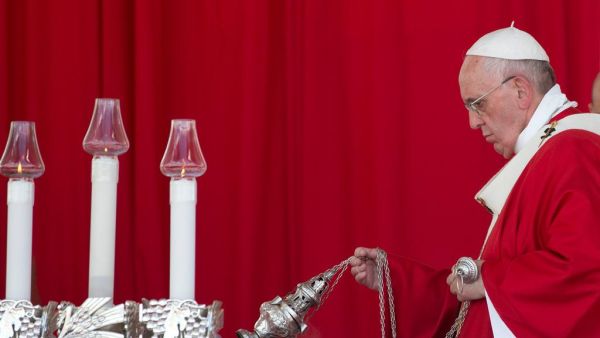 After arriving in Holguin and greeting the crowd that awaited him since early morning, Pope Francis began the celebration of the mass at Major General Calixto García Iñiguez Revolution Square, first of this kind ever held in this place.
Cuba President Raul Castro is attending the mass, as he did yesterday in Havana, along with local Party and governmental authorities, religious leaders, and believers from several eastern Cuban countries and from other parts of the world.
Representing the people of Sancti Spiritus, several residents of Jatibonico —who belong to Ciego de avila Diocese— are also attending the mass in Holguin, where they will share the messages of mercy and hope that Pope Francis has been sending since his arrival in the island.
As part of the agenda to be followed by the Holy Father, he's expected to climb this afternoon the Loma de la Cruz —an emblematic local place of pilgrimage— from where he will bless the city before visiting St. Juan Pablo II statue.
Around five o'clock this afternoon, The Pope will travel to Santiago de Cuba, where he will celebrate, in El Cobre, the last mass in the island and will carry out other activities.