Pope Francis concluded this Friday, after noon, his visit to Bolivia, after a three-day historic journey in which he expressed his solidarity with the poor and called for a better future for this Andean-Amazonian country.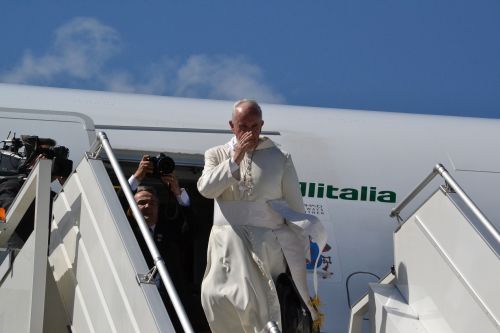 At about 13:15 local time, the Pope boarded an "Alitalia" aircraft, in the Viru Viru International Airport, after a tour along streets and avenues, where he again received greetings and prayers of thousands of people.
The Pope was seen off at the airport by President Evo Morales, by Foreign Minister David Choquehuanca, by the Governor of Santa Cruz, Ruben Costas, along with the main authorities of the Plurinational Legislative Assembly.
Francis arrived at El Alto International Airport last Tuesday, and spent a few hours in La Paz, where he met with President Morales and authorities of the Bolivian clergy.
On Tuesday night, he travelled to Santa Cruz, eastern Bolivia, where he met a busy agenda between Thursday and Friday, and where the only Eucharist celebrated by him in the country took place.  (Taken from www3.abi.bo/abi/, and translated by Escambray).
Pope Francis Begins Visit to Paraguay

Pope Francis began his visit to Paraguay this Friday afternoon and met in Asuncion, the capital, with President Horacio Cartes.
On Saturday, the head of the Catholic Church will visit children and patients at the Acosta Ñu Children's Hospital in the city of San Lorenzo.
During his stay in Paraguay, Pope Francis will visit the city of Caacupé, also known as the spiritual capital of Paraguay and the center of Christian faith, where he will celebrate Mass in the Basilica of the Virgin of Caacupé.
The head of the Vatican will have an exchange with representatives of the Church, religious leaders and bishops in the Metropolitan Cathedral of Assumption.  (Taken from http://www.rhc.cu/en)