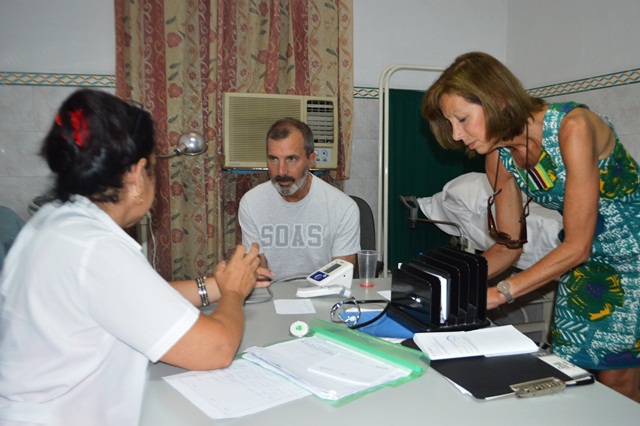 The International Clinic of Trinidad was first opened in 1990, and has never neglected its line of work
Mr. Davies, born in the capital of England, had read of the Cuban cuisine. In that restaurant located in the historic center of Trinidad, city chosen by him to spend a holiday, he more than once tried congrí rice accompanied by fried pork. His stomach, accustomed to the 5:00 pm tea and cookies, punished him for such a drastic change of menu. The next day, Mr. Davies had to go to the local International Clinic.
Once the medical treatment was prescribed, he found relief to his discomfort, not only for the effective diagnosis, but also for the excellent service provided by the health center's staff.
Although it is not among the largest of the island, Trinidad's International Clinic —inaugurated back in December, 1990— has never neglected its line of work: primary care to foreign patients or Cubans living abroad and the sale of medication.
"Acute diarrhoeal diseases, respiratory disorders and traumatisms due to trips to the beach or to the mountains are the most frequent problems —said Zunilda Lemes Rodríguez, first-degree specialist in General Medicine and chief of medical services— but in case that secondary care is demanded, the patient is transferred to the foreigners' ward at Camilo Cienfuegos University General Hospital, in Sancti Spiritus city".
"This year we have received clients from more than 59 countries, predominantly from Germany, France, Italy, Great Britain and Canada. More than 75 percent of these patients were staying in private hostels".
Until 2013 the International Clinic was ruled by the Ministry of Tourism. After that, it was transferred to the Cuban Medical Services Commercial Company, under the Ministry of Health.
Photos: Carlos Luis Sotolongo Puig