Cuba secured third place at the NORCECA Champions Cup with a 25-17, 25-22, 25-15 victory over Mexico at Joe Louis Arena.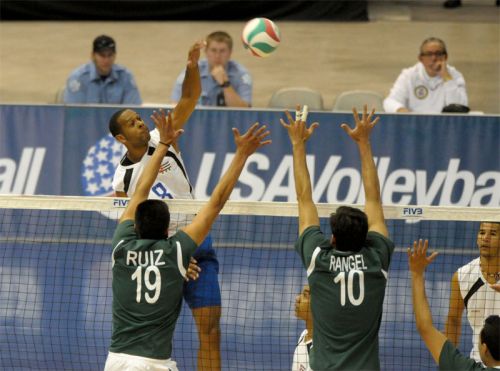 The Caribbean country finished the tournament with a 1-2 record, while Mexico finished 0-3. Neither team qualified for the FIVB World Cup, but both brought young teams to the tournament.
Sancti Spiritus Rolando Cepeda had a relevant performance and ended the tournament as best spiker, scorer and opposite.
View photos of Rolando Cepeda and team Cuba at the NORCECA Champions Cup
Here's a summary of the NORCECA Volleybal Confederation site:
Cuba led the match in kills (41-33), blocks (10-5) and aces (6-1).
Cuban opposite Rolando Cepeda, who entered the match as the tournament's leading scorer, led Cuba with 14 points on 13 kills and one ace. Outside hitter Osmany Uriarte added 13 points on 12 kills and one block.
"I'm happy for the victory. We went out in search of victory and had a good day," Cepeda said. "Mexico is not a major rival, but we did not get blanked and saved our honor. In addition, we broke a losing streak of four defeats."
Opposite Daniel Vargas paced Mexico with 14 points on 13 kills and one block.
"This was a good tournament for us to learn as a young team," Mexico Captain Tomas Aguilara said. "We need to practice a lot and get better for World League. We have a really, really young team. We will look to improve our service and reception, and work together as a group."
The first set was somewhat sloppy for both teams, as Cuba scored seven points on Mexico errors while Mexico got four. The score was tied at 5-5 when Cuba scored on Mexico's error and a triple block to gain a two-point advantage Mexico could not surmount. With Cuba leading 15-10, Mexico made a three-point run, but it ended with a serve into the net and Cuba responded with two straight blocks to lead 18-13.
The second set was tighter. Mexico led 8-6 at the first technical timeout (TTO) while Cuba led 16-13 at the second. Trailing 19-17, Mexico took advantage of a Cuba error and a kill to tie the score at 19-19. Cepeda responded with a kill and a Cuba block put the Caribbean team ahead by two. Mexico tied the score again at 22-22. But two straight kills from Cepeda and Chapman gave Cuba set point and Cepeda ended it with an ace.
Cuba led the third set 8-7 at the first TTO and increased it to 16-13 at the second. Mexico never rallied.