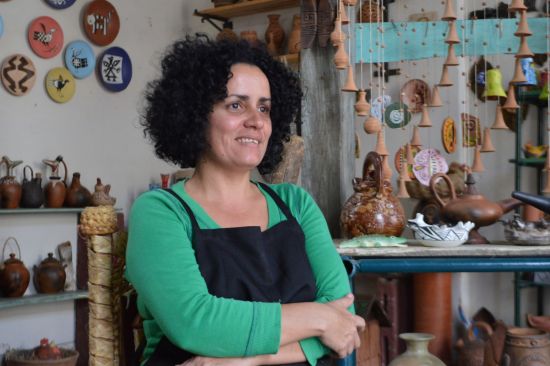 Neydis Mesa (Coki), the only woman of the Santander family who chose to dedicate herself to the pottery business.
As soon as she made her first ceramic work—a basket for her school items— Neydis Mesa (Coki) became noticed. "Her vocation is very strong; she's got a natural flair, she invents her own models and determines which of her pieces are best 'to be burned' (…)", said journalist Mary Ruiz de Zárate in La pequeña alfarera (The little potter), a review published in Bohemia magazine in 1977.
The reporter also said that Coki, "(…) with her industriousness (…), over the time (…), having acquired the techniques, will improve the content of her ancestors' old ceramics workshop. And will stop being just a promising potter (…)".
Many years after that sort of prophesy, Neydis Mesa is completely dedicated to working with clay. This brings memories of her grandfather to her, whom he admired very much.
"His name was Rogelio Santander Durán. He learned the job from my grand grandfather Rogelio Secundino Santander Ortega, who inherited the skills of his father, Modesto Santander. In 1892, my great-great-great-grandfather opened a small, rudimentary workshop in the then outskirts of Trinidad.
"Although having passed away ten years ago, my grand father continues to be my pattern. He used to work from five in the morning to four in the afternoon. He could make sixty nine 40-inches clay jars in only one day, using his foot to make the wheel work. Since I was a child, he said that pottery would be my future. Unlike my uncles, he had the necessary dedication when he saw me holding a piece of clay".
Neydis tells about how she always carried some clay inside her school bag; about how she improved the modelling of lizards, butterflies, turtles; about how she had to leave the clay practice behind during her high school days; and about her definitive return, during her pre-university education.
"I'm so far the only woman in the family dedicated to this job. I became a member of the Association of Artist Artisans of Cuba (Acaa) in Trinidad, in 1994.  At this very moment, I defined my artistic consolidation.
Then there came the times of fighting stigmas. "I must thank the support of both my mother and my father. I had to face all sort of things. (…) But this battle is not over yet, because people don't understand that this job is not against the fact of me being a woman. Women's sensibility enriches the pieces we make. It's not a feminist statement, it's the truth, although many people are not able to accept it".
(…)
Neydis is determined not to give in to tourist stereotypes, so she continues to work on her essence. "I keep on making my animal, my plates decorated with pre-Colombian paintings, trying to maintain the balance between my needs and my spiritual realization.
Let's be realistic: I have to produce the traditional pots to drink Canchanchara, replications of the Manaca Iznaga Tower…, but it's not the only thing I do.  I might not be the super-artist of the Santander family, but I've tried to work a style of my own to make the difference. I'm pleased because I could find my own way without renouncing to the work of my ancestors".