Representatives of the National Basketball Association (NBA) arrived in Havana on Thursday with the objective of exchanging experiences, sharing knowledge and learning together.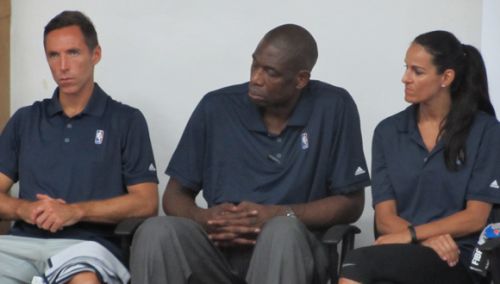 During their stay, until April 26th, prominent figures of this sport, such as the two-time most valuable player (MVP) of the NBA, Steve Nash, and the newly elected to the Hall of Fame, Dikembe Mutombo, will share their experiences with children, youngsters and adults.
At the inauguration on Thursday of the camp for the development of basketball at the Manuel Fajardo University of Physical Education and Sports, participants described as historic the rapprochement of that professional league and the Caribbean nation.
Likewise, Ticha Penicheiro, former star of the women's league (WNBA), who said she was pleased to visit Cuba and give her small contribution to this valuable sports exchange, will be present at the clinics.
Also part of the U.S. delegation are coaches Quin Snyder of the Utah Jazz and James Borrego of the Orlando Magic.
In his conversation with the press, Mutombo referred to important elements like the study of the opponent and master the basics in the search of success, and said "we are happy to build this bridge between the two countries and we come with a desire to help so this game becomes stronger in Cuba."
For his part, Nash pointed out that he considers that it's necessary to develop skills in young players, and described Cuban players as fast and athletic. However, he said, they should work hard to strengthen their potential.
During the meeting, Alberto Andrés García, regional director of the International Amateur Basketball Federation in the Americas, confirmed that they will invite for the first time two athletes and one coach from Cuba to join the Basketball without Borders camp.