The Cuban Five, who were arrested in 1998 and imprisoned in the United States of America on charges of conspiracy, arrived in Namibia Friday night.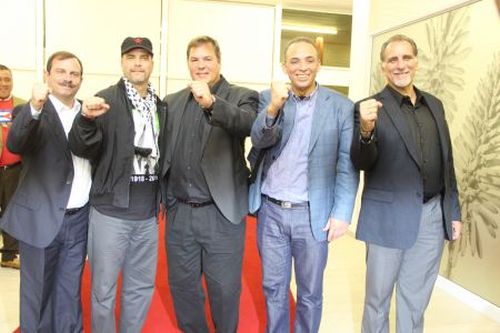 The five men accompanied by their family members arrived at the Hosea Kutako International Airport at around 19h00 from South Africa, where they had been for the past two weeks.
They are in Namibia for four days to express their gratitude for the country's role in raising international solidarity for their plight.
While in Namibia, they are expected to pay courtesy calls on President Hage Geingob, former President Sam Nujoma and Prime Minister Saara Kuugongelwa-Amadhila.
The men were warmly welcomed by hundreds of Namibians, including ministers, members of the Diplomatic Corps, and Namibians who studied in Cuba; amongst others.
Deputy Minister of International Relations Peya Mushelenga and Khomas Regional Governor Laure McLeod received the guests.
Upon their arrival at the airport, the Cuban Five were treated to various traditional dances.
Slogans such as "Viva Cuba", "Viva los Cincos" and "Justice at last" could be heard from afar.
The group was also expected to attend a public solidarity meeting at the UN Plaza in Katutura which would be attended by Namibians who studied in Cuba and members of the Cuban community in Namibia.
On Saturday morning, they paid homage to Namibian heroes at the Heroes' Acre, while they are also expected to attend a session of the National Council in Windhoek.
Taken from http://www.lelamobile.com