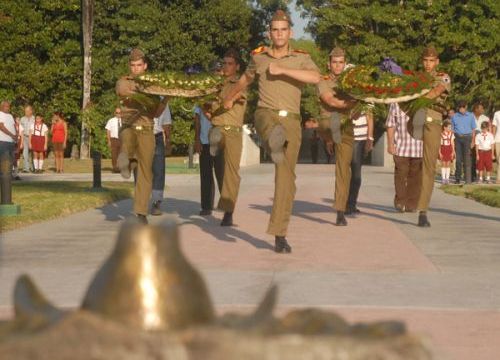 The merit of Las Villas North Front's men, and in particular the unifying role of their leader, Commander Camilo Cienfuegos, were highlighted in a military ceremony held Tuesday in Yaguajay, to honor the combatants of that force fallen during the national liberation war, or after the triumph of the Revolution in January, 1959.
Floral wreaths from the historic leader of the Cuban Revolution, Commander in Chief Fidel Castro; from the President of the Councils of State and Ministers, Army General Raul Castro; and from the Cuban people, were placed by the eternal flame of the mausoleum, where the remains of the combatants are kept.
José Ramón Monteagudo Ruiz, member of the Central Committee and first secretary of the Party in Sancti Spiritus, and Teresita Romero Rodríguez, president of the Provincial Assembly of the People's Power, presided over, along with local authorities,  the guard of honor, made by young students of the Camilo Cienfuegos Military School.
Regarded as a decisive force in the overthrow of the dictatorship in the center of the country, the North Front of Las Villas was composed of members of the Antonio Maceo Number 2 Invading Column, the Maximo Gomez, Popular Socialist Party and Marcelo Salado guerrilla detachments, and the July 26 Movement, which operated in the area before the arrival of Camilo Cienfuegos.