The presence in Cuba of Pope Francis will confirm the good state of relations between the Cuban government and the Holy See, which marked the 80 anniversary of permanent relations, reads an editorial article on Granma newspaper on Tuesday.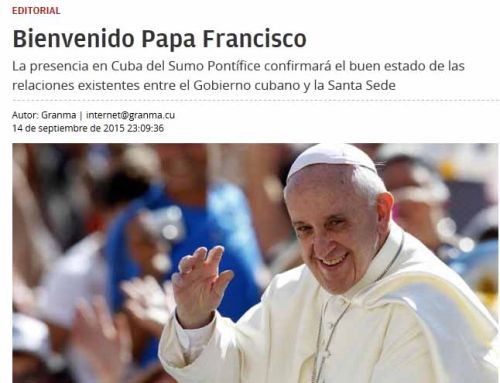 The Pope will pay and apostolic visit to Cuba between September 19-22 and will officiate mass at Havana's Jose Marti Revolution Square on Sunday 20 and at the Calixto Garcia Square in eastern Holguin city on Monday, September 21.
Pope Francis will be cordially welcomed by the Cuban government and the people and he will feel the respect, affection and hospitality during his visit, the article reads and notes that the Holy Father will corroborate "our patriotism and hard and fruitful efforts to defend the human being, justice and culture and a better world, which is not only possible but also indispensable.
The article recalls the visits by Cuban Revolution leader Fidel Castro to the Holy See in 1996; the visits to Cuba by popes Juan Pablo II in 1998 and Benedict XVI in 2012, as well as the positive meeting last May by President Raul Castro with Pope Francis at The Vatican.
Over the past months, authorities from the Vatican and the Cuban Conference of Catholic Bishops along Cuban government authorities have worked to create all the conditions that guarantee a successful plan of activities during the papal visit, and the pilgrims from other parts of the world who want to join us in this significant occasion will be welcomed with kindness that characterizes the Cuban people,
reads the article.
Here, the Pope will meet bishops, priests, religious persons, lay people and he will greet the youth and the Cuban families. He will also officiate mass at the Shrine of the Virgin of Charity of El Cobre, declared Patron Saint of Cuba by Pope Benedict.
The article reads that we (Cubans) will listen to the words of the Holy Father with respect and attention, letting him know that we are an educated and noble people, and will tell him about our history, culture and traditions, as we are now involved in the update of our economic model, and committed to the defense of national
sovereignty and to the preservation of our social achievements towards the wellbeing for all with no exclusion.
And finally the editorial article notes that we will see off the first Latin American Pope at the heroic city of Santiago de Cuba after having offered him a reliable expression of our unity, solidarity and commitment to humanity.