French President Francois Hollande condemned the mass shooting Wednesday that has left at least 12 dead at the Paris office of satirical magazine Charlie Hebdo.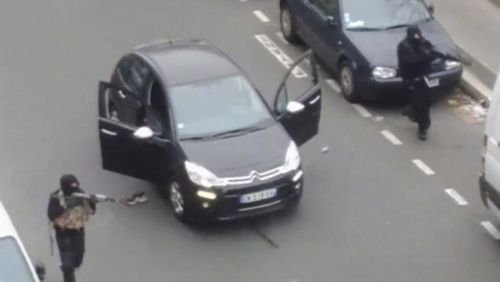 "This is an act of exceptional barbarism," said Hollande, speaking to press from the scene of the massacre in central Paris. He also called the actions of the heavily armed gunmen "cowardly."
At least two unidentified attackers stormed the Paris offices of the controversial publication, shooting calmly and precisely, according to reports.
A witness told French media the two attackers were armed with Kalashnikovs, also known as AK-47s, when they invaded the building in downtown Paris.
The socialist president announced that security has been increased on all newspapers in the capital following the incident, while French newspaper Le Monde confirmed that it was under police protection. The attackers fled the scene and have not yet been caught.
Two police officers are among the victims, who also include Charlie Hebdo cartoonists Georges Wolinski and Bernard Verlhac, journalist Jean "Cabu" Cabut, and editor-in-chief Stephane "Charb" Charbonnier, according to French media reports.
Another 20 people were injured in the attack, including four or five critically. Police union official Rocco Contento described the scene inside the offices as "carnage," according to Reuters.
"About a half an hour ago two black-hooded men entered the building with Kalashnikovs (rifles)," witness Benoit Bringer told TV station iTELE. "A few minutes later we heard lots of shots."
Reuters reported that in a video shot by journalist Martin Boudot from a rooftop near the magazine's offices, a man can be heard screaming "Allah"; the sound of three or four shots immediately followed.
"They're coming out. There are two of them," says a new voice on the video as two men appear in the frame, then raise their arms in a shooting posture.
The reason behind the attack remains unknown.
Charlie Hebdo has drawn international controversy for its repeated publication of cartoons depicting the Prophet Muhammad. In 2011 the newspaper's offices were firebombed after publishing a caricature of Muhammad on the cover of an issue.
France reinforced its anti-terrorism laws last year and is already on alert after calls from Islamist militants to attack its citizens and interests in reprisal for French military strikes on Islamist strongholds in the Middle East and Africa.
(Taken from www.telesurtv.net/english)