Newly elected President Edgar Chagwa Lungu named Patriotic Front (PF) national chairwoman Inonge Mutukwa Wina as the country's vice president, the first woman to serve in the position.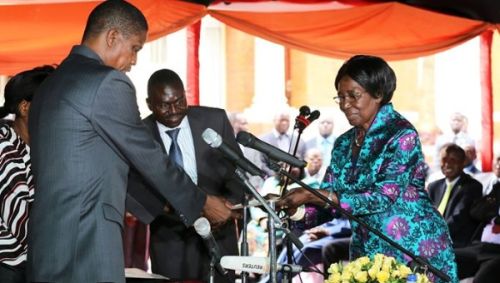 Lungu made the announcement when he appointed his partial cabinet at a press conference in the capital city Lusaka.
The Zambian leader described Wina, who has held the position of PF chairwoman since 2006, as a defender of people's rights. During her tenure at the head of the political party, she led the Non-Governmental Organizations Co-ordinating Council (NGOCC) and founded the Young Women's Christian Association.
"Personally, as president, I will give her all the support. This country has a lot of challenges to do with child welfare and the welfare of women," Lungu expressed.
As NGOCC chairwoman, Wina spearheaded the fight against gender-based violence.
In the previous administration of late president Michael Sata, Wina served as Minister of Gender. The recently enacted Anti Gender-Based Violence Act was also passed under her leadership.
So far, Lungu has only appointed seven cabinet ministers, but has promised to appoint more upon his return from the African Union Heads of State and Government Summit. Lungu has reappointed several cabinet members from Sata's previous administration including Minister of Finance Alexander Chikwanda, Ngosa Simbyakula (Justice), Harry Kalaba (Foreign Affairs) and Davies Mwila (Home Affairs).
Taken from http://www.telesurtv.net/english/