President Evo Morales addressed a ceremony at the pre-Colombian ruins of Tiwanaku on Wednesday, vowing to continue to promote Andean Socialism and indigenous values.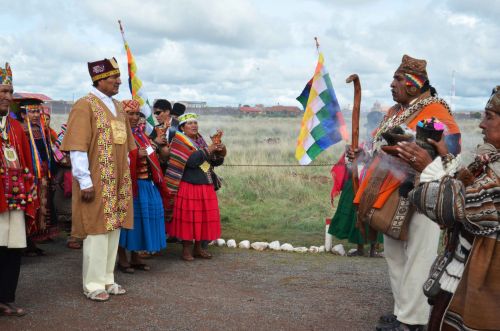 "It is a special and historic day today that reaffirms our identity and democratic-cultural revolution. We are living during times of the 'Pachakuti', pacha refers to equilibrium and kuti mean 'a return', so Pachakuti means a return to equilibrium. It represents a return to equality with policies based in solidarity …in order to carry out the process of change," Morales told thousands of indigenous leaders from across the region.
Morales is Bolivia's first indigenous president in a country where nearly 60 percent of the population is indigenous — the highest percentage of indigenous peoples in the western hemisphere.
During his time as president, the Morales administration has approved many important constitutional changes, including increased autonomy and political participation for the country's indigenous population.
President Morales won in a landslide with 61 percent of the votes in last year's presidential elections. His party, the Movement towards Socialism, won two-thirds of parliamentary seats.
Wednesday's ceremonial act precedes the official state inauguration, which will take place Thursday.
Taken from www.telesurtv.net/english