A 7.7-magnitude earthquake rattled regions in Afghanistan and Pakistan, as well as northern India and parts of the capital New Delhi, whose effects have left at least 100 dead, Reuters reports.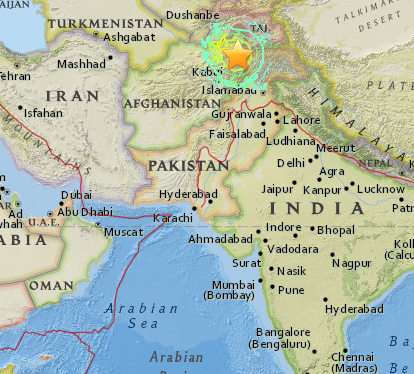 In Afghanistan, a total of 24 were reported dead on Monday including 12 schoolgirls who were trampled in a rush to get out of class. Seven people were reported dead in the eastern province of Nangarhar, two in Nuristan province and three in Kunar, officials said.
In Pakistan, 38 deaths have so far been reported, most took place in the northern and northwestern regions bordering Afghanistan, officials told Reuters.
The earthquake was 213 km (132 miles) deep and centered 254 km (158 miles) northeast of Afghan capital Kabul in a remote area of the Hindu Kush mountain range.
In India's northernmost region of Kashmir, intense and prolonged tremors that caused panic in areas that suffered severe flooding last year were felt. Power and most mobile networks were knocked out, and there was structural damage to buildings and roads.
NBC reported that a building appeared to be about to collapse in Kabul, where residents went into panic with drivers stopping their vehicles and residents pouring into the streets screaming.
"There was no was way to go downstairs so we immediately climbed to the rooftop," a reporter for the network said. "It seemed the entire building is going to collapse. Women and children were crying and traffic was stopped on roads."
The quake struck at around 2:10 p.m. local time. It came just days after it rained in many parts of Afghanistan, making mud-built houses more vulnerable to collapse, NBC News reported.
According to NBC, similar scenes were reported in cities including Lahore and Peshawar in neighboring Pakistan.
India's Prime Minister, Narendra Modi, tweeted that he had spoken to Afghan President Ashraf Ghani to express his sympathy.
In 2005, a 7.6 magnitude quake hit Pakistani Kashmir killing more than 73,000 people, wounding 128,000 and leaving 3.5 million homeless.