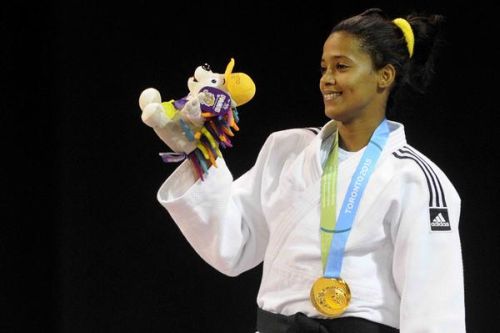 Sancti Spiritus judo athlete, Dayaris Mestre, won the first gold medal for the Cuban delegation at the XVII Pan American Games being held in Toronto, Canada.
Mestre, who had a wazari win over Argentinian Paula Pareto in the 48-kg final, retaliated for what happened in Guadalajara 2011, when the South American athlete, current world championship runner-up, and bronze winner in Beijing 2008, defeated her in the last combat.
As expected, the fight was a very tight one, and it had to be decided using the "Golden Score" rule (additional time), since once the normal five-minute competition time was over, the athletes' scores were tied with one penalization (shido) each.
In her first two combats, Mestre beat Ecuadorian  Diana Cobos, and Mexican Edna Carrillo, with wazari and yuko, respectively.
Taken from PL, and translated by Escambray.
 Photos: AIN