The constant inflow of travelers from all over the world and their predilection for places of nature and history, are significant elements that make Cuba be trendy within the travel industry.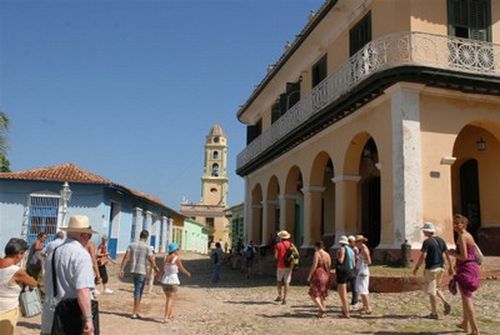 Recent figures of foreign visitors to the island enlarge the record of more than three million visitors reported in 2014, when the rise was started, experts say.
The strategy of diversifying the sun-and-beach offer with a wide range of several other choices like circuits, congresses, history, culture, quality of life, nature, adventure and nautical activities, strongly supports this touristic business.
For example, the National Bureau of Statistics and Information of Cuba (ONEI) reported Thursday that during the first half of this year, 1 923 326 international visitors arrived in the island. This represents an increase of 15.9 percent when compared with the same period in 2014.
As for this year's first semester, Canada, Germany, United Kingdom, France, Italy, Argentina, Venezuela, Mexico, Spain and Chile were reported as the major markets.
At present moment, the Ministry of Tourism holds 26 mixed enterprises, thus making five thousand 492 rooms in four and five-star hotels. There are also administration contracts with 18 international hotel chains, meaning 69 hotels and 35 892 rooms.
The statistic information also includes 1 574 private restaurants, best known here as Paladares, plus 11 thousand 504 houses for tourist accommodation in private homes.
Cuba operates with 10 international airports, and the travels of 54 foreign airlines flying to more than 60 cities worldwide.
This scenario justifies the growing spiral of Cuban tourism, the third in receiving travelers in the Caribbean after the Dominican Republic and Puerto Rico.
Sourse: Prensa Latina. Translated by Escambray