Cuban anti-terrorist fighters, internationally known as the Cuban Five, will be awarded today with the Venezuelan Liberators Order, in their second day of visit in this country.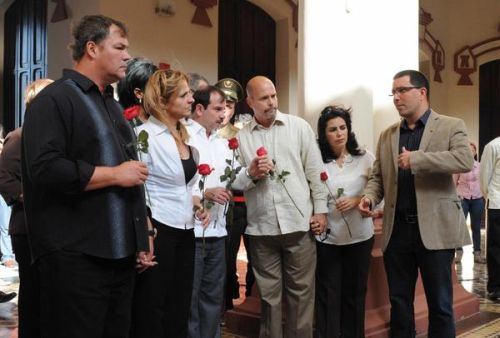 According to government sources that highest decoration will be conferred at the National Mausoleum, where the mortal remains of the Liberator of America, Simon Bolivar rest, along with other Venezuelan patriots.
Cuban Five Distinguished As Illustrious Guests in Caracas
Cuban Antiterrorist Fighters Arrive in Venezuela
In their arrival on Monday, invited by President Nicolas Maduro, Gerardo Hernández, Ramón Labañino, Antonio Guerrero, Fernando González and René González paid tribute to the deceased president, Hugo Chavez, at the Mountain headquarters.
In that place, in front of the mortal remains of the author of the Bolivarian Revolution, the Cuban Five remembered that Chavez was the first non-Cuban head of State in stating forward the case to the UN as one of the main pillars of the world battle for their liberation.
These men were sentenced in 2001 to long sentences in US prisons for monitoring the activities of terrorist groups operating against Cuba from US territory of Florida.
We have come to lay at the feet of Chavez the victory of the Five because this is also his victory. He was our best friend and lavished our families with his huge capacity for love, Rene Gonzalez told Prensa Latina.
The Cuban Five received on Monday the Keys of Caracas city and paid tribute to Simon Bolivar in the square of this capital carrying the name of that Venezuelan hero.