Cuba had a fruitful harvest Monday at the 17th Pan American Games in the Canadian city of Toronto, highlighting the performance in diving, canoeing, rowing and weightlifting.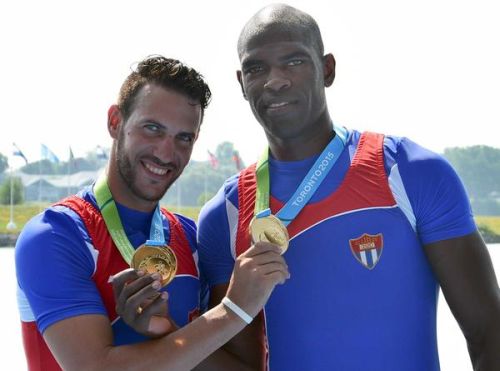 Cuban divers Jose Antonio Guerra and Jeinkler Aguirre starred a competitive milestone by winning the final of the synchronized platform with record of 439.14 points, surpassing by far the pairs of Canada (404.34) and Colombia (403.23).
In addition, at the Welland Pan American Flatwater Centre, the Caribbean canoeists won three titles in the events of the men's K-1 and K-2 1000 meters kayak, and women's K-1 500 meters kayak, with special highlight for Jorge García who was involved in the two titles of the men.
The Cuban canoeing also won a bronze medal in the men's C-2 1000 m canoe through Serguey Torres and Jose Bulnes with time of 3:49,932 minutes, behind Canada and Brazil, in that order.
On the other hand, Angel Founier and Eduardo Rubio won the gold in the double sculls (M2x) (6: 30.35 minutes), while their compatriots Manuel Suarez, Janier Concepcion, Adrian Oquendo and Solaris Freire (6: 14.03), finished second in the coxless four (M4-), behind Canada and Yariulvis Cobas and Aimee Hernandez (7: 20.00) achieved a bronze medal in the double sculls (W2x), surpassed by Canada (7: 13.01) and USA (7: 14.65).
Cuba staged a commendable performance in weightlifting by achieving two gold medals through Yoelmis Hernández (85 kg) and Addriel La O (77 kilos), and two other silver medals through Yadier Nunez (85) and Marina Rodriguez (63).
Hernandez set three Pan American records by lifting 164 kilos in the snatch and 206 in clean and jerk for a total of 370 and win the gold medal in the continental competition, escorted by his compatriot Nunez (364 / 163-201) and Colombian Juan Ruiz ( 347 / 157-190).
The Caribbean island also reached three silver medals in judo through Asley Gonzalez in the 90 kilos, Onix Cortés (70) and Ivan Silva (81), while Maylin del Toro (63) finished third.
In an Olympic final high-level between world medallists, Brazilian Thiago Camilo defeated Gonzalez, while Cortes lost to Canadian Kelita Zupancic, and Silva was beaten by American Travis Stevens.