Cuba First Vice-President Miguel Diaz-Canel saw off the first group of athletes that will compete in the Pan American Games to be held in the Canadian city of Toronto, July10-26.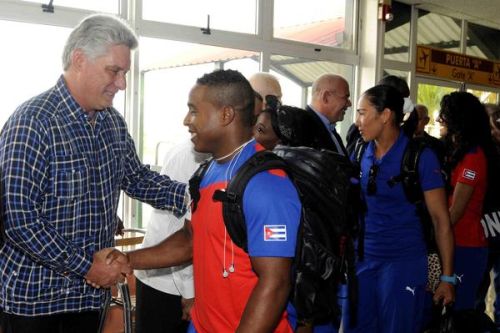 Diaz-Canel went to the Terminal 5 at the Jose Marti International Airport to meet with the 240-strong people delegation that includes sportspeople, coaches, judges and officials from the National Instutute of Sports, Physical Education and Recreation (INDER)
Olga Lidia Tapia, member of the Secretariat of the Cuban Central Committee of the Communist Party, encouraged athletes to give their best in each competition and return to the Homeland as winners, where they will be received with the love and respect they deserve
She congratulated them for the opportunity to represent their country.
Lisandra Carrillo, one of the 500 meter kayak 4 crew, told ACN news agency that they are ready to contribute with the first medals to the Cuban delegation next July 11, but they still lack some experience at this level.
Despite that, she said, they will give their best to beat their toughest rival, host Canada.
Cuba attends these games with 461 athletes with the commitment to ratify the second position at continental level, a feat achieved since Cali 1971, with the exception of Havana 1991, when Cuba toppled the United States from the top.