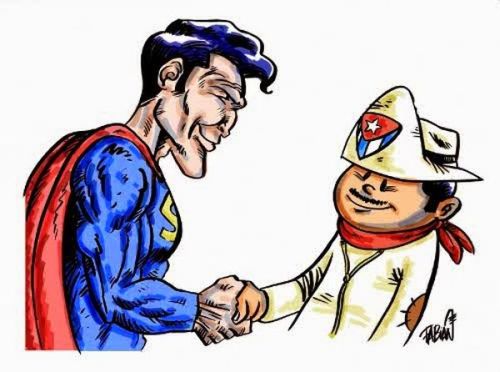 The official re-opening of the Cuban and the USA embassies in Washington and Havana, respectively, are very significant events on the way to the rapprochement already began last December 17th, between the northern superpower and our country.
The ceremony in which the Cuban delegation took part last July 20th was very impressive for us, as well as the activities which fallowed in the Department of State, when the Cuban Minister of Foreign Relations, Bruno Rodriguez, and his US counterpart,  John Kerry, had a meeting and then held a press conference.
The statements of both diplomats and the later meeting with the journalists revealed their interest in defending their position without hurting the other side. Nevertheless, Bruno Rodríguez impacted the audience with several expressions of historic determination.
In his speech, Rodríguez said that "we would like to convey the Cuban conveyed the Cuban government's respect and recognition to the President of the United States for urging the US Congress to lift the blockade as well as for the change of policy that he has announced, but in particular for the disposition he has showed to make use of his executive powers for that purpose".
(…)
What we see now is —in certain way— the late continuation of what was advanced by President James Carter's administration, when interest sections were opened in Washington and Havana, and an incipient cooperation was started in certain areas which didn't not survive his term of office.
(…)
Even though USA-Cuba ties were cut off on January 3rd, 1961, by Republican Party representative Dwight D. Eisenhower, they are now re-established by a member of the opposite party, and the first non-white president in the history of the United States.
Experts agree that the road ahead is difficult and challenging. "Obama is faced with a minefield", some say referring to his adversaries in Congress, but on both sides of the Strait of Florida, multiple opportunities of progress and cooperation are foreseen which would be unwise to lose.