The Cuban Center for Molecular Immunology and the Roswell Park Cancer Institute in New York on Tuesday signed an agreement to export to the USA a lung cancer vaccine developed on the island.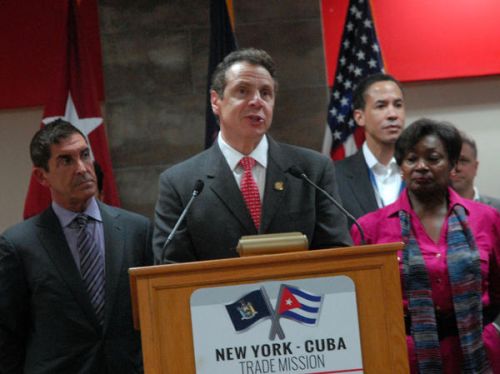 "The signing of the agreement will allow us to begin the clinical trials as soon as we arrive in New York", said the Director of Roswell Park Institute, Candance Johnson, during a press conference at Havana's airport.
Johnson is part of a trade delegation from New York State headed by Gov. Andrew Cuomo, which paid a visit of a little more than 24 hours to the island to explore business options, in addition to fostering exchanges in the educational and research areas.
The vaccine – known as CIMAXax-EGF – was created by Cuba in 2011 after 15 years of research and Havana holds the worldwide patent rights to the drug.
The vaccine is registered in Cuba and Peru, although countries such as Brazil, Argentina and Colombia are in the process of approving it also and others such as the United Kingdom and Australia have undertaken clinical trials with it.
The New York trade mission to Cuba also produced an agreement between the New York firm Infor, which develops software for specific industries, and an unidentified Cuban "partner" who is "interested" in one of the company's software products for the healthcare field, said company CEO Charles Phillips.
"We were surprised and impressed with the level of technology and expertise they have in healthcare technology," he said.
Phillips said that his company also has decided to supply software to Cuban universities to equip students to become "leaders" in the use of technology in the healthcare field.