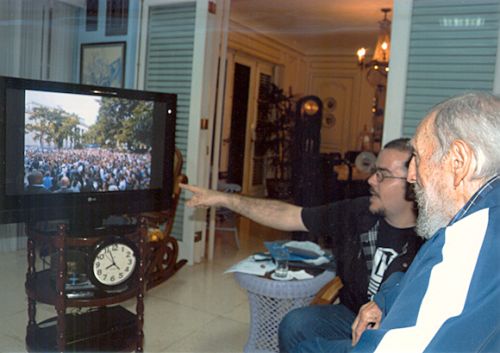 Cubadebate webpage published an article and photos by the President of the Cuban University Student Federation, Randy Perdomo, about his recent visit to Revolution leader Fidel Castro.
University students have been marking the 70th anniversary of the registration of Fidel at the University of Havana, and it was in this context that the visit took place on January 23rd.
Fidel Castro Sends Message to University Students
Randy Perdomo, full with enthusiasm, recalls in his article his conversation with Fidel as he showed him the compilation of his reflection articles while leading the conversation.
He insisted in the need to develop sciences as the only way to have intelligence prevail, and about the relationship between sciences and economy, and the quality of professionals in that field, Randy said.
Fidel also stressed the need to produce food for the people and animal feed and he showed Randy photos of his plots of land planted with vegetable varieties he is now studying.
Interesting enough was the package of news wires over the table, which Fidel reads to keep informed on national and international issues, Randy explains in his article and also said that in a particular moment of their conversation, Fidel referred to Venezuela and Bolivarian leader Hugo Chavez, as well as to President Nicolas Maduro. He also talked with Randy about Nicaragua and the efforts by Daniel Ortega and his wife to boost the development of their country.
Randy and Fidel also read an article dedicated to the five Cuban anti-terrorist fighters as Randy noted that with great emotion, Fidel looked at the faces of Rene Gonzalez, Fernando Gonzalez, Antonio Guerrero, Gerardo Hernandez and Ramon Labañino.
For some instants they also talked about physical exercises which Fidel takes every day and about the appropriate diet. Then they watched a map of the University of Havana, which reminded Fidel of different sites in his time at the center, such as the cafeteria at the Law Faculty and he recalled his historic encounters with university students after the triumph of the Cuban Revolution.
Involved in scientific issues, Fidel also spoke with Randy about some ways to fight diseases, such as Diabetes through natural products and later he referred to Cuba and Africa from the contribution by the Cuban people to the independence of African nations, the end of Apartheid and the work of Cuban doctors who are currently fighting the Ebola virus in that continent.
Fidel Castro also spoke about issues he is now studying, such as the cost of food, metal ores, sugar, energy and others, and he also enquired about the recent visit to Havana by the US Program Semester at Sea after Randy gave him a DVD receiving the US students.
Randy said that after he left and back on the streets of the city, he remembers his conversation with Fidel, a man full of life who spoke with him so vividly and with great intelligence, with his simple manners and with infinite capacity of surprising others.
[nggallery id=100]