Civil Aviation and the smuggling of persons will be the issues to be approached next week at expert level next week by Cuba and the United States, as was announced Friday at the end of the second round of talks for the reestablishment of diplomatic relations.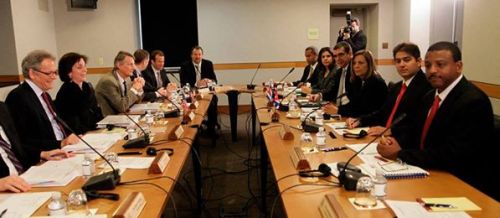 The meetings on issues of mutual interest are among the results of the talks held Friday at the State Department headquarters, headed by Director General of the United States at the Cuban Foreign Ministry, Josefina Vidal and Assistant Secretary of State for Western Hemisphere Affairs, Roberta Jacobson.
According to Jacobson, the first exchanges between experts will take place in the United States and they will continue in March in the Caribbean island with the visit of ambassador Daniel Sepulveda, who will work with the hosting country in issues of communication and information.
Also in March, at the end of the month, we will talk about the structure of our dialogo n human rights, she said to the media after the second round of talks.
In statements to journalists, Vidal explained on her part that the technical meetings will also allow to exchange on migration fraud, the protection of marine areas and the changes in regulations which modify the application of the U.S. blockade on Cuba.
Both diplomats coincided in describing the meetings held the eve as developing in a constructive climate of cooperation, following those of the first round on January 22 in Havana, to advance toward a reestablishment of bilateral relations and the opening of their respective embassies in both countries.
Adjectives as respectful, fruitful, professional and productive were among those mentioned when referring to the talks.
During the press conferences they gave separately, Josefina Vidal asserted they had managed to make stances of both nations come closer on the topics to discuss to reestablish links. She described the climate of the talks as respectful and profesional enclosed in the common will to advance to the normalization of relations, expressed by presidents Raul Castro and Barack Obama last December 17.
I am optimist to be able to have some results in a few weeks, she elaborated.
According to Vidal, during the talks the island insisted on the need to solve problems as withdrawing Cuba from the list of countries that sponsor terrorism and the impossibility of its Interest Section in Washington to access banking services, a situation that has gone on for more than a year.
On her part, Jacobson highlighted the seriousness and the spirit of cooperation of the dialog. It was a productive and fruitful conversation, she said and the spirit of cooperation in the dialog held in a constructive tone.