The Basilica of El Cobre located in the province of Santiago de Cuba is getting ready to welcome Pope Francis and will offer a mass on September 22nd in the church located 18 kilometers from the center of the city.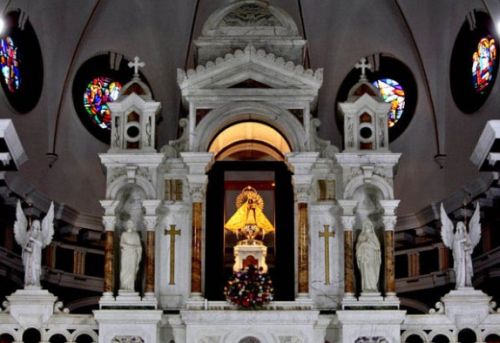 Maria Caridad Lopez, in charge of the press in the Archdiocese of Santiago de Cuba told ACN News Agency that the Sanctuary of  the Virgin of Charity (Virgen de la Caridad del Cobre) was recently refurbished to host two important events.
She pointed out that one of them was the visit of Pope Benedict the XVI and the celebration of the 400th anniversary of the image of the Virgin.
Then, she added that the restoration process included changes to several of its internal functions aimed at returning the areas to its original sites.
For example, the space that occupied the Milagros Chapel where followers carry out their promises was put in its original area.
That is why the first was transferred to one of the side aisles which was previously closed and whose opening contributed to an improvement of the area's ventilation.
She added that part of the carpentry that was deteriorated due to time and plagues mainly in frames, both in windows and stained glass and the area where the Virgin stands were refurbished.
Work was done in the interior and exterior areas; painting of the building and improvement of the electrical and sanitation systems, lightening and audio.
Installations surrounding the church were also restored like the Casa de Retiro whose construction dates back to over 60 years and were benefited by the sanitation and external systems.
In the first, the chapel, dining room, ten rooms, telephone center, reception and protocol halls were restores, actions that make up all of the building where the former San Basilio Magno Seminar was located.
There were also new constructions like the home of the priests where Pope Benedict the 16th lodged and which will also be the area where Pope Francis will stay; facilities were created for the access of people with special needs and the green areas were also taken care as well as the interior streets and Mariana Plaza.
Previously the temple with the religious image was at the Cerro del Cardenillo but due to the exploration of copper in the area it was demolished.
Pope Francis will visit Cuba from September 19th to the 22nd and in addition to Santiago de Cuba, he will offer masses in Havana and Holguin.