Cuba survived a ninth-inning meltdown to defeat Puerto Rico 8-7 in ten innings on Thursday at the Premier 12 in Taiwan.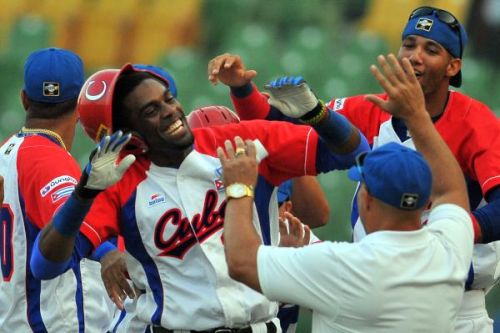 P.R. erased a 2-7 deficit in the top of the ninth to force extra innings in this first-round matchup in Pool A at Intercontinental Stadium in Taichung. Cuba improved to 2-1, while Puerto Rico dropped to 1-2.
The game was decided in the first extra inning. With the WBSC Extra-Inning Rule in place, Puerto Rico loaded the bases in the top of the tenth, but failed to bring home a run. In the bottom half of the frame, Yordan Manduley scored the game-winner on a ground ball to first by Yasiel Santoya. Puerto Rico tried to turn the double play to get out of the inning, but after getting the force out at second, the relay back to first pulled the fielder off the bag and Santoya was safe.
It was another example how cruel Baseball can be at times. Entering the ninth inning Puerto Rico was down 2-7 and looked like a sure loser. But three consecutive hits by Jorge Jimenez, Joiset Feliciano and Alexis Pantoja made it 4-7 with one out. After Jay Gonzalez struck out and Jack Lopez got hit by a 2-2 pitch, Richard Thon stepped to the plate and sent an offering over the wall in left field for a three-run home run to tie the game.
But in the end Cuba prevailed. One day after rallying against the Netherlands, they gave away not only a big lead in the ninth, but also a 2-0 advantage earlier in the contest. But by scoring in four of the five frames between the fourth and the eighth, Cuba got back ahead.
Alex Malleta and Alfredo Despaigne set the highlights with a two-run triple in the first and a solo home run in the fifth. Yunieski Gourriel went 2-for-4 with three RBI. Aldo Mendez hit a solo home run for Puerto Rico to tie the game for the first time in the fourth. Thon finished with four hits and four RBI.
Freddy Alvarez got the starting nod from manager Victor Mesa. He conceded just two runs on five hits and three walks in 6 2/3 innings. He struck out five. Puerto Rico's starter Randy Fontanez II gave up six hits, four runs and a base on balls in three-plus innings. Both received a no-decision due to the wild ending to the game.
After the scheduled rest day on Friday, both teams will be back on the field on Saturday. Cuba is taking on Chinese Taipei in the evening game at Intercontinental Stadium in Taichung. Puerto Rico will face the Netherlands earlier on the day at the same field.
Taken from www.cubasi.com