Cuban First Vice President Miguel Diaz-Canel, said that his visit to India strengthens a friendship that passed the test of time and positions both countries in better conditions to strengthen.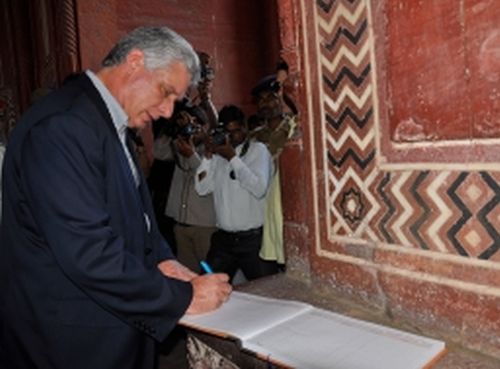 "We just meet 55 years of diplomatic relations and our bilateral envision a promising future in various areas, said Diaz-Canel to Prensa Latina a few hours after returning to the island to end a tour that included South Africa, Angola and Namibia.
Corresponding to such expressions, the Indian Foreign Ministry said in a statement that these are "historical relations, marked by cooperation , understanding and convergence of interests on global issues".
In a brief visit of less than 48 hours, the Cuban leader met with Prime Minister Narendra Modi, President Pranab Mukherjee, Vice President Hamid Ansari and Chancellor Sushma Swaraj, and other activities chatted with figures of political, economic and social development of the South Asian nation.
On Tuesday, the culmination, Diaz Canel visited Agra (about 180 km south of Delhi), and there, the world famous Taj Mahal.
At the end, he wrote in the guestbook that he was honored to be in that supreme expression of Indian culture.
The other members of the Cuban delegation, the Director General for Bilateral Affairs, Ministry of Foreign Affairs, Gerardo Peñalver, and the director of Asia and Oceania Foreign Ministry, Miguel Angel Ramirez, also highlighted the contribution to bilateral relations makes the visit Diaz-Canel.
This is the highest level of a leader of the island to India from October 1983, when then president and historic leader of the Cuban Revolution, Fidel Castro, attended here a summit of Non-Aligned Countries.