The Cuban squad Pinar del Río Vegueros was defeated again in the 2015 Caribbean Baseball Series in San Juan, Puerto Rico, by losing 1-6 to the Gigantes de Cibao from the Dominican Republic.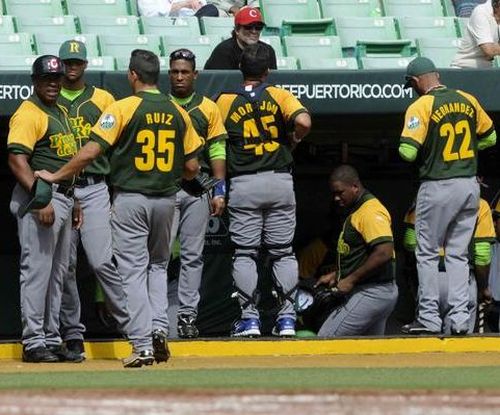 In a match played at Hiram Bithorn Stadium, the Cuban team totaled 12 hits but suffered again from lack of timely hitting when leaving seven runners on bases.
Rafael Pérez was the winner when allowing six hits in five innings of work, while Norge Luis Ruiz took the loss by allowing nine hits and three earned runs in five innings.
The Dominican team took the lead in the second inning when catcher Carlos Paulino hit a double to drive in outfielder Willy Garcia, and added decisive four-run in the sixth inning, highlighting the homer by García himself off reliever Jonder Martínez.
Cuba's only run was scored by William Saavedra in the seventh inning driven in by shortstop Dainer Moreira.
With two defeats in as many presentations, Cuba is now against the ropes in the Caribbean Series in San Juan, forced to win in its next two matches to earn a ticket to the semifinals on Saturday.
The Cuban team will face today the local squad of the Santurce Cangrejeros, and shall complete the qualifying round on Thursday against the Anzoategui Caribes from Venezuela.