Cuba rallied from a 1-4 deficit to defeat the Netherlands 6-5 on Wednesday afternoon at Intercontinental Stadium in Taichung.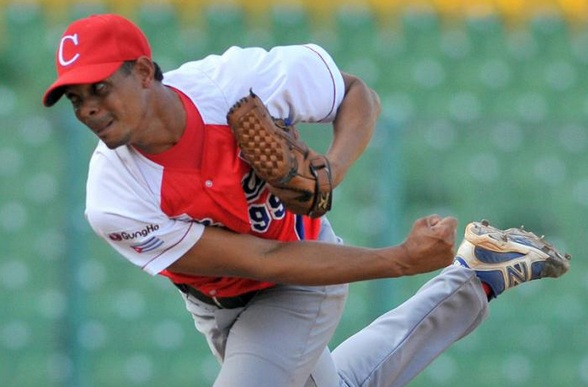 It was the first win for Cuba and the first loss for the Dutch team in first-round play at the Premier12. Yulieski Gourriel scored the game-winner in the eighth.
It was a back-and-forth affair between two rivals of international baseball. Cuba came through first, scoring on a sac fly by Stayler Hernandez in the top of the second for a quick 1-0 lead. But the Dutch team countered – in a big way. In the third Carlton Daal tied the contest with a RBI single and Randolph Oduber followed with a RBI double to turn the score around. Shawn Zarraga extended the Netherlands lead to 4-1 with a two-run home run in the fourth.
Cuba needed until the sixth inning to find an answer. Alfredo Despaigne and Yosvani Alarcon cut the deficit to a run through a RBI single and a sac fly. Then Hernandez lifted a pitch over the wall in right field for a two-run home run and a 5-4 Cuban advantage. The Dutch team was able to counter right away though. In the bottom of the same frame they loaded the bases with two outs and with Gianison Boekhoudt at the plate Andruw Jones scored the tying run thanks to a wild pitch.
The Netherlands wouldn't score again. Cuba meanwhile decided the outcome in the eighth. Gourriel and Despaigne opened the inning with back-to-back singles. A sac bunt moved them over and Alarcon came through with a RBI single to put Cuba back in front.
Alarcon and Hernandez combined for four hits and five RBI. Gourriel scored twice. Carlton Daal had three hits for the Netherlands. Jair Jurrjens started for the Netherlands and issued five runs on eight hits in six innings, while striking out seven. Juan Carlos Sulbaran relieved him and took the loss. Jim Ploeger, Bayron Cornelisse and Orlando Yntema also pitched in the game. Cuba's starter Frank Montieth gave up five hits, four runs and a walk in 3 1/3 innings. Jose Angel Garcia earned the win with four scoreless innings in relief.
Cuba is taking on Puerto Rico on Thursday afternoon at Intercontinental Stadium. The Netherlands square off against Italy at Dou-Liou in the evening in an all-European duel at the Premier12.
Taken from www.cubasi.com