Cuban President Raul Castro and Algeria´s Head of State Abdelaziz Bouteflika held a two-hour meeting in Algiers on Monday, in which Raul conveyed greetings from Cuban Revolution leader Fidel Castro and his best wishes to the Algerian president.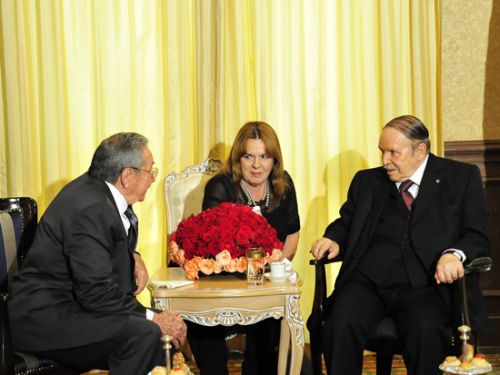 After the talks, Raul Castro spoke with Cuban and Algerian reporters covering his third visit to the African nation and he described bilateral relations between the two countries as going well, as usual.
The Cuban President said that he and Bouteflika addressed different issues in detail, such as the international situation and the realities of their respective regions, and also Algeria and Cuba´s foreign policies.
"The most important aspect is that the two of us fully agree in this respect. I praised him and his government for the international policy they are maintaining. We stand by Algeria with support."
Raul told the journalists that he would return to Algiers soon, perhaps this same year and he recalled that this is his third visit as Cuban President. He also mentioned the interest of Algeria and Cuba in producing vaccines and other pharmaceuticals, and to maintain bilateral medical cooperation.
Cuba´s first international medical mission took place in Algeria in 1963, Raul recalled and he went on to address issues of Cuban reality, including the significant role being played by Cuban women in the development of the country and the demographic challenges facing the Caribbean nation.
All these issues and others were part of such a nice exchange with the reporters, which he said had made him forget that he was giving a press conference.