The executives of the New York Cosmos soccer club and their Cuban counterparts concurred that the friendly match between these sides will be historic.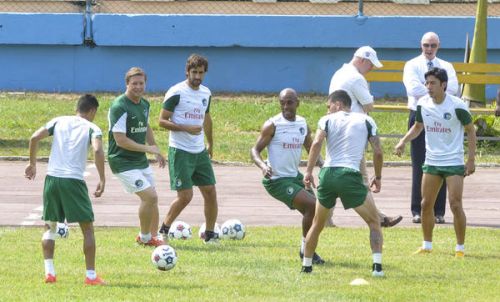 As expected, this will be a great event, beyond the sporting result, the game will show the values of brotherhood, peace and fellowship that our sport implies, said Rene Perez, Cuban national commissioner, at a press conference in Melia-Cohiba hotel.
Meanwhile, for the famous Brazilian former star Pele, who played for Cosmos in the 1970s, " to visit Cuba for the first time is a great joy, soccer is the world's largest family, it is a symbol of peace and so I am glad to witness how this country opens up to world soccer. "
Similarly, the Spanish striker Raul Gonzalez Blanco, undoubtedly the Cosmos´ spark plug in attack, said that this will be a historic match because it will strengthen the bonds of friendship between the two nations.
Tomorrow both teams will try to make the public to have fun and that this to be the beginning for many other American squads to come to Cuba. I have received much love from these people who obviously enjoys soccer, something that surprised me a lot, said Raul.
Cuba is the 43 rd country visited by the New York Cosmos, which becomes the second American soccer team that has visited this nation, as the Chicago Sting did it in 1978.