The Minister for Foreign Relations of the Federal Republic of Germany, Frank-Walter Steinmeier, held a meeting Thursday morning with his Cuban peer, Bruno Rodríguez Parrilla, as part of his official visit to Cuba.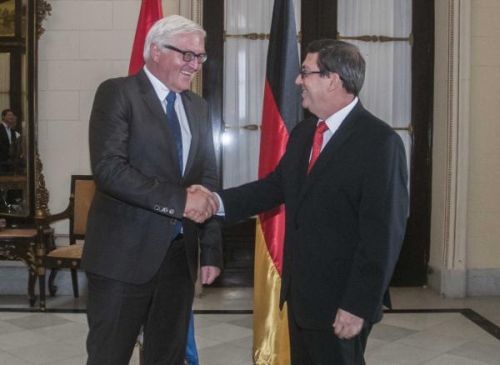 Both diplomats signed a joint declaration on the cooperation between the two governments, as well as a memorandum of understanding between the ministries of foreign relations of both countries, for the establishment of a mechanism for political consultations.
Bruno Rodriguez highlighted the importance of this visit, which he considered "a reflection of the positive development of the bilateral links, and the will of our government to boost relations in all areas".
Meanwhile, Steinmeier commented that: "this is a new Herat we're stepping on", and announced that he will hold "numerous conversations during his two-day visit", in which he will also tackle issues of interest for the relations between Cuba and the European Union. He added that the agreements signed imply " a new basis in the relationship between our two governments and our ministries of foreign relations".
Source: Cubadebate. Translated by Escambray.