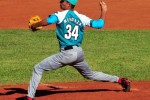 Pitcher Hector Mendoza has signed with the Yomiuri Giants, becoming the third Cuban to join Japan's Central League team this season.
The Giants announced the signing on its website Thursday. Financial terms of the deal were not disclosed.
The 20-year-old right-hander has a 6-4 record with 13 saves and a 2.35 ERA in the Cuban baseball league this season.
Mendoza joins compatriots Frederich Cepeda and Leslie Anderson on the Giants roster.
Last year Cuba began allowing players compete in overseas leagues while still in their prime for the first time in decades. Several big names have signed lucrative deals in Japan this season.
The Giants signed a cooperative agreement with the Cuban baseball federation in April, looking to strengthen ties with a country rich in baseball talent.
Taken from Cubasi.cu