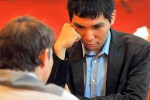 As expected, Filipino Wesley So won the Capablanca Memorial Chess Tournament Elite group by totaling 6.5 units and was escorted by Cuban Lazaro Bruzon (5.5).
All the matches of the final round ended in draw, which provoked no changes in the standings where the local Leinier Dominguez was third with five points, followed by Hungarian Zoltan Almasi and Spanish Francisco Vallejo (4.5).
So (2731 Elo points) signed peace with Almasi (2693), last year monarch, in only 12 moves of a Queen Pawn opening and Bruzón (2682) and Leinier (2768) did the same after 33 moves of a Queen's Gambit.
Bruzón had an excellent performance in the contest held at Havana-Riviera Hotel, where in addition to share the unbeaten status with So, he added 12 units to his ELO.
The other game involved Vallejo (2700) and Ukrainian Vassily Ivanchuk (2753), who reached only four units that placed him last among the six Grand Masters (GM), far away from the leadership he enjoyed in his six previous visits.
Cuba won the crowns in the Premier, Open 1st and Open 2 nd through GM Yusnel Bacallao (2522), International Master (IM) Juan Carlos Obregón and the 12 years-old talent César Alejandro Pérez, respectively.
Bacallao led by tiebreak a quartet of men who finishe tied with six points, which included their counterparts Sebastian Bogner (2593), from Switzerland, Peruvian Emilio Córdova (2616) and the local Isam Ortiz (2588).
Obregón totaled 8.5 units and Perez finished with 7.5.
In the Premier group the local supporters also enjoyed the second GM norm achieved by IM Yasser Quesada (2493), who amassed five points, and in the Open 1st the GM Sulennis Piña also reached her third norm of IM regardless sex.