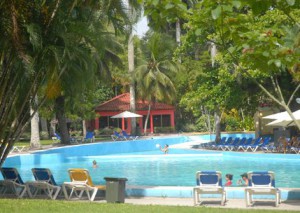 Villa San Jose del Lago resort, located in Mayajigua town, to the north of Sancti Spiritus, offers a natural pleasant environment which makes it worth visiting.
Trinidad's El Jagüey Cave Opens to EcoTourism (+photos)
Sancti Spiritus Rough Diamond for Nature Tourism
Rancho Querete: a Captivating Spot in Central Cuba
A wonderful lake, surrounded by coconut trees and several other plants, invites to take a boat ride, to climb on the water bikes, or even to relax in the shade or brown yourself in the sun.
But the hotel's spring is indeed its major attraction. Its thermal waters have mineral properties which are very effective in the treatment of several chronic diseases.
Once in the facility, guests can request for visits to nearby interesting sites, such as Parque Nacional Caguanes (Caguanes National Park), and Jobo Rosado protected area.
Villa San Jose del Lago is ruled by Hoteles Masnatura, of the Islazul hotel chain. It's got 74 air-conditioned rooms, and provides satellite TV, restaurant, and cafeteria services.
Taken from Radio Sancti Spiritus, and translated by Escambray.