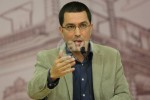 Venezuelan Executive Vice President Jorge Arreaza denounced existence of a coup plot, aimed at attacking the country's institutions and supported by violent actions in different states.
Using his Twitter account, Arreaza ratified what President Nicolas Maduro said: "We have detected a coup plot in the worst 2002 style."
Faced with that, "we will not allow people's peace to be disturbed," he said.
He also affirmed that "we have contacted opposition leaders that asserted to have distanced themselves from the violent actions. We all must isolate those in favor of a coup."
Venezuelan AG Reports Three Deaths From Opposition Violence
The violence generated by Venezuelan right-wing groups Wednesday in several states left three dead and 66 injured, reported the Attorney General of the Republic, Luisa Ortega. Speaking on National Radio of Venezuela (RNV), Ortega said the injured were concentrated in Caracas (nine), Aragua (41) and Mérida (11).
In addition, 17 of the injured were police officers and 49 were civilians. She added that violent groups also damaged 54 vehicles, six of them official and the rest private. Ortega warned that investigations are underway to determine those responsible for the violence.
"All those involved will pay for the damage, and all investigations are being conducted to that end, including raids, inspections, detentions and whatever it takes," she said.
Also, the Forensic Unit against Infringement of Fundamental Rights of the Prosecutor reported that, after the assault recorded yesterday afternoon against the headquarters of that office, various caliber shells were collected in different parts of the building.
Ortega noted based on evidence that these violent groups shot at a facility where 800 people work.
He assured that such situation was premeditated, there was never any intention to dialogue, because these groups came prepared to cause mayhem.