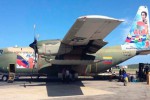 The Venezuelan people show their support to Palestine. The aircraft that leaves Caracas today carryies 12 tons of humanitarian aid. 
The Venezuelan military aircraft Hercules C130 will travel to Palestine today with twelve tons of humanitarian aid ranging in medicine, nonperishable food, clothes and other goods. The Venezuelan people and government have collaborated in gathering goods at different state institutions and community organizations.
Foreign Minister Elias Jaua confirms that details regarding the safe arrival and transfer of humanitarian aid were discussed last week in Egypt. Jaua detailed that the Venezuelan people collected 25,622 containers of medicine, 27,173 kilograms of nonperishable food, 412 bulks of clothes, 8,123 personal care products, 22 wheelchairs, eight clinical beds among other aid.
Earlier this week in Los Caobos Park in Caracas, hundreds of artisans came together from across the country to build toys for Palestinian children. The event "Thousands of Toys for Thousands of Palestinian Boys and Girls" was inspired by the late Venezuelan musician Ali Primera. Primera held similar events in solidarity with children across the world.
Since July 8 the Israeli offensive in Gaza has left more than 2,000 people dead and 10,000 people injured, majority women and children.