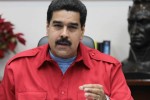 The Venezuelan government is willing to start a dialogue with its opposition, in a meeting aimed at consolidating national harmony through the mediation of a mission of UNASUR foreign ministers.
President Nicolas Maduro announced the project here from Miraflores Palace in Caracas, after a meeting yesterday with eight foreign ministers of the bloc who are in the country for a second time to back peace talks.
If the meeting succeeds, it will send a great message of peace and democracy for the nation, he said, explaining that he had accepted the conditions for the talks suggested by the foreign ministers' mission.
"I´m eager to have that meeting, with Unasur as exceptional witness," he said.
It would be the first time since the beginning of the peace conference that the government and the opposition would come together face to face, to work jointly in favor of peace.
Maduro recalled that he has repeatedly urged the rightwing to Miraflores Palace to exchange views and in response has always received evasive answers and conditions for the talks.
The foreign ministers commission is made up of Foreign Affairs Minister from Colombia, Maria Angela Holguin, from Ecuador, Ricardo Patiño, Surinam Winston Lackin; Brazil, Luiz Figueiredo; and from Argentina, Héctor Timerman.
Also included are the foreign ministers from Uruguay, Luis Almagro; from Chile, Heraldo Muñoz, and Bolivia, David Choquehuanca.
In addition, Executive Vice President Arreaza indicated that a working meeting has been called for next Friday.