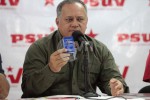 The President of Venezuela's National Assembly (AN), Diosdado Cabello, said that Venezuelan opposition denies the existence of contraband and sympathizes with this unlawful practice.
Smuggling is a reality that affects Venezuela and Colombia, and I have witnessed the Armed Forces operatives in which tons of food were seized and even ferrous material, Cabello said in an interview with the private channel Televen.
He also said the government is carrying out since last Aug. 11 a plan to combat this scourge, which the President of the National Assembly, is part of the economic war that has deployed the right of this nation and its allies to overthrow the President Nicolas Maduro.
He felt that all 'means used for smuggling should be confiscated immediately' on the basis of what is stipulated in the Organic Law of Fair Prices.
He said that more than 27 thousand employees perform work supervision to prevent the spread of this phenomenon and hard face corruption and the corrupt 'can not be someone from a government, to traffic influences and needs of the people'.
The parliamentary leader referred to the implementation of fingerprint readers as a measure for combating smuggling and illicit business and said this system is introduced against unscrupulous people who buy in the markets several times to extract goods and then sell them or take them out of the country.