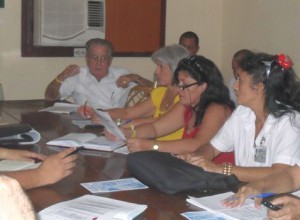 Cuban ancient city of Trinidad is currently hosting the International Congress Orthopedics 2014, which Dr. Rodrigo Alvarez Cambra, head of the Organizing Committee, expects to be a success taking into consideration the quantity of nations and companies to be present.
"The attendance to this 25th congress, said the also president of the Cuban Society of Orthopedics and Traumatology, is already beyond expectations, with delegates from 24 countries like Rusia, China, Japon, Canada, Spain, and almost all Latin American nations, which validates the prestige and quality of the event".
By Ana Martha Panades, from Radio Trinidad
Delegates to the congress arrived this Monday, September 22nd, in Sancti Spiritus, capital city of the province, while pre-congress courses started today in Ancon and Brisas Trinidad del Mar hotels, both resorts venue of the event until September 27th .
The commercial exhibition is to be inaugurated September 23rd, in order to show medical community the latest equipments and treatments to deal with orthopaedics and traumatology-related pathologies. On that same day, delegates and guests will attend one of the forum's most significant moments, the placement of a huge external fixator, a symbol of the speciality in Cuba, on one of the palm trees that grows at the local Parque Cespedes (Cespedes Park).
Theoretical and practical sessions on pediatric orthopedics, regenerative medicine and traumatology, will take place during these days, as well as lectures, working meetings, and several other collateral activities to show the distinguished visitors the charms of 500-year-old Trinidad.