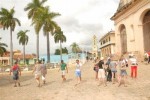 Trinidad continues to attract many visitors.
The extension and renovation of Ma Dolores Country Farm, as well as the reopening of several specialized bars and restaurants, are among the actions carried out within the so-called industry without chimneys in the Cuban village of Trinidad.
Over 300 thousand tourists visited the City Museum of the Caribbean last year, mostly attracted by its half-millennium celebrations, which definitely favoured local revenues and earnings plans.
Nearly 1 900 state workers are grouped in the Hotel and Tourism Trade Union in Trinidad. They are valuable people that carry out humanitary actions like supporting cancer health programs with a great amount of their tips. The work of non-state workers also helps enhance the prestige of tourism services in the island.
The contribution of local innovators is also worth noting. Their creative thinking has been proven effective in the solution of problems in technical areas, while unveiling several new possibilities in food and drink services.
Trinidad tourist destination is an incredible combination of natural beauty with cultural and architectural values.  That's why thousands of visitors are seduced by the possibility of touring around one of Latin America's best preserved historic sites.
Taken from Radio Trinidad and translated by Escambray