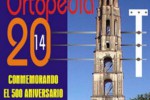 Over 270 papers will be presented at the 25th Orthopedics and Traumatology Congress, to be held in Trinidad, Sancti Spiritus, from September 22 to 27.
Delegations from México, Argentina, Ecuador, República Dominicana, Nicaragua, Perú, Brasil, Uruguay, Panamá, Canadá, Japón, Francia, Alemania, España, Bélgica, Estados Unidos, China, Martinica, Angola, and Mozambique, have so far confirmed attendance.
Some twenty companies that produce or commercialize medical equipments and orthopaedic supplies will be also participating.
Dr. Rodrigo Alvarez Cambra, president of the Cuban Society of Orthopedics and Traumatology told AIN about the major topics to be discussed at the event, in which two lectures will be given by Dr. Alvarez Cambra, and Mexican Professor Mario Armando Castellano.
According to the head of the Provincial Group of Orthopedics and Traumatology in Sancti Spiritus, Dr. Lazaro Acosta, nearly twenty local papers about different successful treatments will be also presented.
Taken from AIN and translated by Escambray.