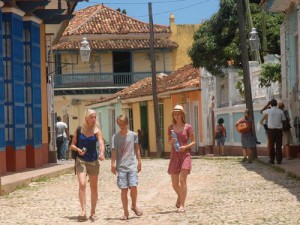 Workers of the heritage area of the city of Trinidad, Sancti Spiritus, join solidarity campaign in favour of the Cuban Five.
Within the context of the International Campaign for the liberation of the Cuban anti-terrorist fighters, the workers of the heritage area of the city of Trinidad, central Cuba, will come together in a committee in favour of the cause of the Cuban Five.
Fernando Gonzalez Decorated by Spanish Communist Party
According to Mirtha Devora Dominguez, director of Casa de la Amistad de Trinidad, ruled by the provincial delegation of the Cuban Institute of Friendship with the People (ICAP), the committee will be established next October 6th, on occasion of the 38th anniversary of the sabotage to a Cuban airliner in Barbados, when 73 passengers were killed.
Casa de la Amistad de Trinidad has promoted several other activities like encounters with members of the Association of Combatants of the Cuban Revolution, school institutions, and sport and tourism workers, among others.
Gerardo Hernandez, Ramon Labañino, Antonio Guerrero, Fernando Gonzalez, and René Gonzalez —the last two already back in Cuba— were arrested by agents of the Federal Bureau of Investigations on September 12th, 1998, in Miami, Florida, where they were monitoring terrorist organizations like Alpha-66, and Fundación Cubano Americana, because of the actions carried out against the island.
Born 17 years ago, Casa de la Amistad de Trinidad undertakes actions every year in favour of the Cubans who are still held in federal prisons of the United States.
The abovementioned international campaign was started last September 4th, to mark the day in which Italian tourist Fabio Di Celmo was killed in a sabotage 17 years ago, and will be closed October 6th.