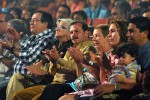 Musicians of the most diverse genres met at Havana's Karl Marx Theater to honor the five Cuban antiterrorists on the occasion of the 18th edition of the island's international record fair and contest, Cubadisco 2014.
The show "Me dicen Cuba," part of the homonymous CD-DVD produced by Cuba's record label, EGREM, winner of the Special Prize of the jury in this edition, was presented on Thursday evening.
The concert began with the screening of the video clip "Me dicen Cuba," by Alexander Abreu and the group Havana D´Primera, and the performance of the Cuban Television Ballet Company, which was joined by Los Van Van, troubadour Vicente Feliu, the duo made up of singer Leyanis Lopez and musicians Lazaro Garcia of Cienfuegos province, and the rumba performers of the Yoruba Andabo Ensemble.
Also singing to Rene Gonzalez, Gerardo Hernandez, Ramon Labañino, Antonio Guerrero and Fernando Gonzalez (known internationally as The Five), were interpreter Luna Manzanares along with Kiki Corona, improviser Hector Gutierrez, and pianist Frank Fernandez and his son Frank Ernesto, among others.
Orlando Vistel, president of the Cuban Music Institute, handed over an acknowledgement to the EGREM for its five decades of work at the service of the best of Cuban music.
At the end of the gala, the video clip "Nuestra justa verdad," a theme by Emilio Vega dedicated to The Five, was presented.
Attending the gala were Fernando Gonzalez, Hero of the Republic of Cuba, and relatives of the antiterrorist fighters.