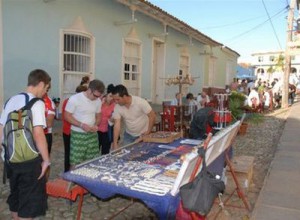 The tourism industry and export funds in the Cuban central province of Sancti Spiritus—of the utmost importance for the development of the island's economy— have contributed revenue of more than 66 million pesos so far this year.
The tourist activity in the territory exceeds the planned offer since the province welcomed almost 321 000 tourists a day, with incomes per visitors outreaching the 58 convertible pesos, encouraging figure if considered the schedule. The cost per peso of income goes to 60.7 convertible cents, similar to the planned amount.
The sector currently benefits from a large investment program including the completion of the Pansea Hotel in Trinidad, the start of another major hotel at the Ancon peninsula, the conclusion of the Don Florencio Hostel, in Sancti Spiritus, and works of repair and maintenance in much of the tourist infrastructure of the territory.
Meanwhile, according to recent closures, the delivery of products for export in the province amounts to more than 40 million 281 thousand pesos, with special emphasis on the non-ferrous products, alcohols, charcoal, honey bees and lobster.
Furthermost, the José Martí Pérez University of Sancti Spiritus has contributed to the economy of the region some 3 300 pesos of income with technical assistance services.
Generally, the behavior of Sancti Spiritus economy so far in 2014 is favorable: total commodity production amounted to 644.3 million pesos, which implies a 12 percent of the planned surplus, and a growth of almost 8 percent compared to the same period last year.
The physical production index also showed a good performance with an increase of 6, 4 percent, while contributions to the budget totaled more than 415.696 million pesos.